FAMILY
Married to the most incredible woman, Angela, on March 5, 1994
Blessed with 2 kids, Rachel and Josiah and a son-in-law, Kurt. (Since January 2018 been empty-nesters and loving it!)
EDUCATION
Completed Master of Divinity in May '08 from Phoenix Seminary
BACKGROUND
Born October 4, 1971 in Orange County, California.
Became a Christian at the age of 4. Grew up in So. Cal. And attended First Evangelical Free Church in Fullerton, Ca. It was Charles Swindoll's church and where I was deeply impacted for life by the leaders and youth of the ministry there.
Joined the Marine Corps in summer of 1989.
Served in Desert Shield & Desert Storm.
I've traveled to more than 13 different countries.
I met Angela in our youth group at church but didn't start dating until the end of my term in the Marines. Soon after we were married we moved to Auckland, New Zealand to take up a youth pastor position at Papatoetoe Baptist Church.
We served for 3 years there and had our daughter Rachel there as well.
It was also in New Zealand that I picked up the love of rugby.
Following our time in New Zealand we moved to Phoenix, Arizona and I took up an associate pastors position at New Life Community Church where I served for 8 years. And it was during that time that we had our son Josiah.
Then on October 31, 2007 we moved to Las Vegas, Nevada to take on the role of senior pastor with the amazing people of Summit Ridge Church. I am so proud of them and love them dearly.
I can't wait to keep watching what God is doing with this church. We are here to stay.
INTERESTS
Reading
Rugby
Gettysburg history
Beach
Outdoors Stuff
Marine Corps/military
FAVORITE AUTHORS
Paul Miller
Charles Swindoll
John Piper
Kevin DeYoung
Joseph Stowell
Jerry Bridges
A.W. Tozer
Ed Welch
RC Sproul
Kent Hughes
Jack Miller
FAMILY
Married my wonderful wife Leiisa on September 02, 1992. We have two boys who are currently serving in the military, Zachary (Army) and Seth (Air Force).

EDUCATION
Bachelors Degree in Public Administration of Law Enforcement – Nevada State College – 2008
Masters of Divinity – Liberty University – 2017

BACKGROUND
Born in December 1973 in Luke Air Force Base, Arizona. Grew up in a military family and lived in Germany and Japan. Met my wife Leiisa in High School on the military base in Japan. Went into the Army shortly after Leiisa and I got married. Zachary was also born at Luke Air Force Base, AZ and Seth was born in Heidelberg, Germany.

After serving in the Army, I served as a Border Patrol Agent in south Texas for four years. Moved to Las Vegas in 2002 for employment. Became a Christian in 2009. Started attending Summit Ridge Church in 2011. Served in multiple ministries at Summit Ridge: youth group, college group, small groups, children's ministry, and elders. God is doing some amazing things here at Summit Ridge, and I am so excited to be a part of it.

INTERESTS
Reading
History
Sports
Military

FAVORITE AUTHORS
Wayne Grudem
Jeff Shaara
Charles Swindoll
Jeffrey Archer
C.S. Lewis
Jerry Bridges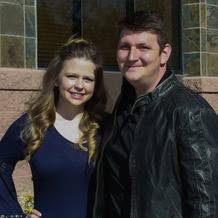 FAMILY
Bryce is married to his high-school sweetheart Amber Neuberger with three young children: his eldest the ever artsy Liam, his middle child the tough but sweet Jacen, and the newborn Trent.

BACKGROUND
I was born in Pinellas Park Florida but was raised in Tulsa Oklahoma. I graduated from Lincoln Christian School with a heart for ministry. I moved to Arizona after meeting my future wife Amber so her father would let me marry her. Since Then I have been chasing the dream of ministry. I ran the 4th and 5th grade ministry of Compass Church in Goodyear Arizona for years while pursuing a bachelor's in ministry. I moved on from that ministry in pursuit of full-time ministry where I have found Summit Ridge as my new home. I am excited to preach the Gospel to the youth of Las Vegas and cannot wait to see the realization of what God is doing in this community. I love preaching above all else, but in my free time you will find my family playing video games both classic and new, or you will find me in local gaming shops playing super nerdy games like Warhammer or Star Wars Legion.

FAVORITE BANDS
Hillsong
All Sons and Daughters
Where the Good Way Lies
Odesza
65 Days of Static

FAVORITE YOUTH GROUP GAMES
Four Square
Dodge Ball
Nerf Wars
Lip Sync Battles

FAVORITE AUTHORS
Wayne Grudem
John Piper
Nancey Pearcey
FAMILY
Tiffany married her high school sweetheart and best friend Jeremy on June 7, 2008, and they have three children - Adele (10), Ezra (8) and Abraham (4).

EDUCATION
Bachelors of Science in Criminal Justice with a minor in Religion - California Lutheran University, 2008


BACKGROUND
I grew up in the San Fernando Valley in Southern California. I came to know the Lord at age 18 as a senior in high school. I had the blessing of marrying my best friend and high school sweetheart at age 22 and have served in various ministries over the last 15 years as a believer. My husband and I were on youth staff at a church in Ventura County for 6 years and have had the opportunity to attend the weddings of high schoolers that we discipled. In 2013, we helped to launch a church in Ventura County and wore many ministerial hats in the process.

Our family moved to Las Vegas in August 2019 for a job relocation for my husband. We love being part of the Summit family and I am privileged to be on staff with people who are committed to making much of Jesus!

INTERESTS
Coffee
Reading
Cooking
Foodie Places

FAVORITE BANDS
Rend Collective
David Crowder
Shane & Shane
Citizens & Saints
CityAlight

FAVORITE AUTHORS
Jerry Bridges
Paul Tripp
Elyse Fitzpatrick
Scott & Heather Rider
Worship Ministry Leads

FAMILY
After dating for three years, we married on May 30, 1997 and are blessed with three amazing children: Ashley, Maggie, and Caleb.

BACKGROUND
Scott was born in New York. At the age of 5, his family moved to Canada when his dad answered the call to pastor a church in London, Ontario. His first year of college was at Moody Bible College, followed by the completion of his Bachelor's degree in Colorado. Heather was born in Dallas, Texas and after living there for 9 years, her father's job transferred the family to Georgia and then to Colorado, where she finished high school and college….and met Scott….at church.

We have been leading worship together since before we were married. We were blessed to serve in ministry alongside Scott's active duty Air Force career for over 13 years. We've lived in 10 houses in five states and served with so many amazing people. Together, we have organized and led worship for church services, conferences, and special events, and have had the opportunity to do some teaching about worship along the way, specifically in the area of ministering to the military and incorporating contemporary worship in military chapels. Scott left active duty in 2010 to enter full-time ministry with North Valley Church. Although we don't always know what the future holds, God always has a plan for our future. When North Valley closed its doors in 2016, God opened a door for Scott to begin working as a civilian with the Air Force. He retired from the Reserves in 2017 and continues to work in Las Vegas doing cool Air Force things as a security specialist. Heather has done a variety of things over the years. Most recently, she worked as a Clinical Research Coordinator at Mike O'Callaghan Military Medical Center.

Over the years, God has taught us so much about ministry, ourselves, and how to care for others through the good and the bad. Our passion is not in performing, but in leading people to God, His truth, and His presence. It is exciting to see God's people live out their life of worship and engage with their creator through song! We are so very happy to be serving at SRC!

INTERESTS
Spending time with family and friends
Worship planning and leading
Military families and events
Travel
Hiking and being outdoors
Photography
Relaxing as a family with a good movie

FAVORITE AUTHORS
Hmmmm…. with three very active kids, we currently struggle with time to complete enough books to have a favorite.


Hospitality Ministry Leads