Sabado a la 6:30 PM // Saturdays at 6:30 PM
CREENCIAS, MISIÓN Y VISIÓN
La Iglesia Summit Ridge existe para glorificar a Dios, y para hacer mucho de Jesucristo en todo lo que hacemos.
Glorificamos a Jesús al: Amar a Dios, amar a los demás y servir al mundo.
Discipulado
Todo se trata del discipulado: confiar y seguir a Jesús. Definimos discípulo como alguien que está siguiendo a Jesús, siendo cambiado por Jesús y comprometido con la misión de Jesús. ¡Y no hay mayor gozo, no hay mayor vocación que ser un seguidor de Cristo! En Summit Ridge, estamos comprometidos a ayudarlo y alentarlo a dar el siguiente paso en su viaje hacia Jesucristo y aprender el gozo de seguir a Jesús.

Visión
Reconocemos que Dios es para nosotros; pero no se trata de nosotros, se trata de Él, y vivimos para hacer mucho de Jesús con todo el cuerpo de nuestra iglesia. Existimos para darle a conocer.
[Mateo 22: 37-38; Filipenses 1: 6, 9-11; Sofonías 3:17; 2 Corintios 5: 14-15]

Mientras crecemos en comunión con el Señor y en obediencia a Él, valoramos la tristeza piadosa por nuestro pecado para que podamos caminar más cerca de Él mientras escuchamos las impresiones del Espíritu Santo.
[Hebreos 13:21; 2 Corintios 7: 9-10]

Es nuestro crecimiento, hambre y sed de justicia lo que nos distingue de otros que no lo siguen.
[Colosenses 1: 4-6, 9-10, 21-23, 28-29; 2 Corintios 2: 14-16]

Es nuestro compromiso de amar a Jesús y hacer mucho de Él lo que nos impulsa a amar a los que nos rodean a lo largo de toda la vida, y equipar a nuestra iglesia para animar a las personas hacia Jesús a través del discipulado intencional.
[Romanos 15: 5-6; 2 Corintios 1: 3-7; Juan 13: 34-35; 1 Corintios 16:13]

Creemos que las personas amarán tanto a Jesús que abandonarán el sueño americano del individualismo para dedicarse a un trabajo inspirado por Dios. Pensarán globalmente, se preocuparán por los perdidos, se sacrificarán por encima de la norma, romperán el molde del status quo por el bien de la misión de Jesús.
[Hechos 2: 42-47; Hebreos 10: 32-36]

Esta es la comunidad de la Iglesia Summit Ridge: amar al Señor en todas las formas posibles y amar a los demás con ese gozo que se encuentra en el Señor.
[Romanos 15:13; Hebreos 10: 24-25]

Nuestro proceso
En Summit, nuestro objetivo es mantener las cosas simples para enfocarnos en lo más importante: hacer mucho de Jesús haciendo discípulos que hacen discípulos. Por lo tanto, alentamos a todos los que forman parte de Summit a participar en las siguientes tres áreas:
• Iglesia
• Grupos pequeños
• Ministerio / Misiones
Eso es todo, simple y llanamente.
BELIEFS, MISSION & VISION
Summit Ridge Church exists to glorify God, to make much of Jesus Christ in all that we do.
We glorify Jesus by: Loving God, loving others and serving the world.
Discipleship
We are all about discipleship - trusting and following Jesus. We define a disciple as one who is following Jesus, being changed by Jesus and committed to the mission of Jesus. And there is no greater joy, no greater calling than being a Christ-follower! At Summit Ridge, we are committed to helping and encouraging you to taking the next step in your journey toward Jesus Christ and learn the joy of following Jesus.
Vision
We recognize that God is for us; but it isn't about us - it's about Him - and we live to make much of Jesus with our whole church body. We exist to make Him known.
[Matthew 22:37-38; Philippians 1:6, 9-11; Zephaniah 3:17; 2 Corinthians 5:14-15]

While growing in fellowship to the Lord and obedience to Him, we value godly sorrow over our sin so that we can walk more closely to Him while listening to the Holy Spirit's promptings.
[Hebrews 13:21; 2 Corinthians 7:9-10]

It is in our growth, hunger, and thirst for righteousness that makes us distinct from others who do not follow Him.
[Colossians 1:4-6, 9-10, 21-23, 28-29; 2 Corinthians 2:14-16]

It is our commitment to loving Jesus and making much of Him that drives us to love others around us through all of life, and equipping our church to encourage people toward Jesus through intentional discipleship.
[Romans 15:5-6; 2 Corinthians 1:3-7; John 13:34-35; 1 Corinthians 16:13]

We believe that people will love Jesus so much that they will abandon the American dream of individualism for engaging in God-inspired work. They will think globally, they will care for the lost, they will sacrifice above the norm, they will break the mold of status quo for the sake of Jesus' mission.
[Acts 2: 42-47; Hebrews 10:32-36]

This is the community of Summit Ridge Church - loving the Lord in every way possible and loving others from that joy found in the Lord.
[Romans 15:13; Hebrews 10:24-25]
Our Process
At Summit we aim to keep things simple in order to focus on what's most important – making much of Jesus by making disciples who make disciples. So we encourage everyone who is a part of Summit to engage in the following three areas:
• Church
• Small Groups
• Ministry/Missions
That's it, plain and simple.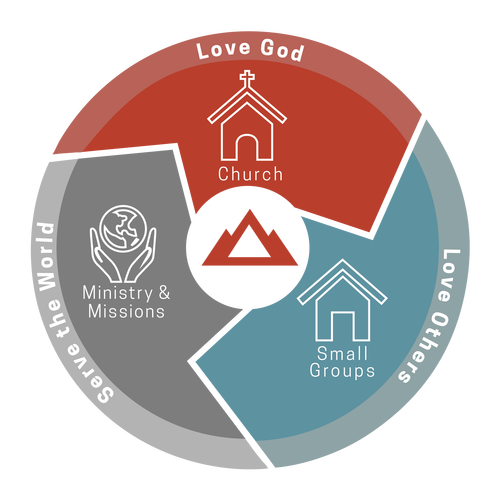 Summit Español Leadership Team
Erick Aguilar
Efrain & Cristina Castillo
Find out more! // ¡Más información!
We'd love to hear from you. Fill out the form below to get started.
Nos encantaría saber de ti. Llena el formulario para comenzar.